BARAMULLA |
Updated: 26 September, 2023 9:03 pm IST
BARAMULLA: A terrorist of Lashkar-e-Taiba (LeT) and five of his associates have been arrested and arms & ammunition recovered from Baramulla district in north Kashmir.
The arrests were made in a joint operation conducted by the Jammu and Kashmir Police and security forces. On September 21, cops in Baramulla received inputs from reliable sources that a person namely Yaseen Ahmad Shah, a resident of Janbazpora area, was missing from his home and had joined proscribed terror outfit The Resistance Front (TRF), an offshoot of LeT.
Based on the inputs, the police had registered a case under sections of UAPA and Arms Act at the Baramulla police station and an investigation was taken up.
ALSO READ: TADA court rejects bail pleas of JKLF, Hurriyat workers in terrorism case
A day later on September 22, a joint team of the Baramulla Police, the Army and the CAPF apprehended the terrorist during checking at Pattan. Incriminating materials, arms and ammunition including a pistol, a magazine and eight live rounds were recovered from his possession.
During questioning, he disclosed the name of his other associate Parvaiz Ahmad Shah, a resident of Takiya Wagoora. Accordingly, joint parties of Baramulla Police, Army and CAPF raided the latter's residence and subsequently arrested him. Upon his disclosure, two hand grenades were also recovered from his possession.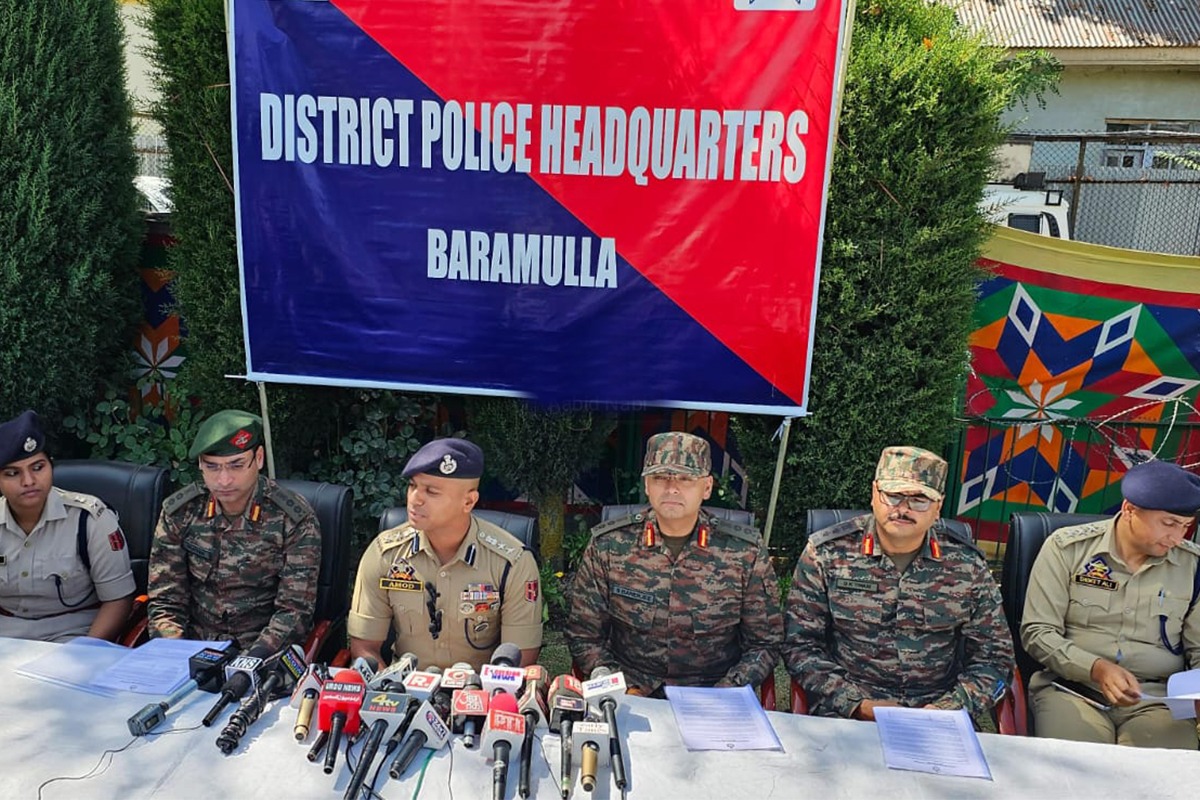 Shah further disclosed the names of his associates as Nigeena of Bandipora, Aafreena of Srinagar, and upon their disclosure, two hand grenades were recovered from their possession.
On September 25, terrorists Yaseen Ahmad Shah and Parvaiz Ahmad Shah disclosed the names of two more associates as Mudasir Ahmad Rather and Showkat Ahmad Malik of Baramulla. Upon their disclosure, a Chinese grenade, a pistol, pistol magazines and eight live rounds were recovered respectively from their possession.
ALSO READ: SENSATIONAL: J&K Police arrest celebrated cop Sheikh Aadil over corruption; hobnobbed with media daily
"Investigation has revealed that this terrorist along with his five associates were operating on the directions from Pakistan based handlers and were planning to recruit more terrorists and carry out terrorist activities in Baramulla and nearby areas," said Baramulla SSP Amog Nagpure.
In another achievement, joint forces of Baramulla Police and Army's 8 RR recovered two Glock pistols, four magazines, two pistol silencers, fivec Chinese grenades and 29 live rounds from two persons during naka checking in Baramulla.
"They were involved in cross border smuggling of arms and ammunition at the behest of Pakistan based terror handlers and its further distribution to LeT terrorists for carrying out terror activities," said the SSP.