Indo-Pak Javelin Rivals Neeraj Chopra and Arshad Nadeem Rewrite History with Unprecedented Bond
NEW DELHI |
Updated: 28 August, 2023 6:34 pm IST
NEW DELHI: The fierce competition and the historic rivalry between India and Pakistan has found a new battleground that unites hearts: the world of javelin throwing. Neeraj Chopra of India and Arshad Nadeem of Pakistan have added a fresh chapter to the tale of Indo-Pak rivalry by sharing the winner and first runner-up positions at the prestigious world athletics championships held in Budapest. 
While Neeraj and Nadeem engage in fierce competition on the field, these young athletes share a profound camaraderie beyond the arena. Beyond the thrill of rivalry, their off-field friendship has been evident through mutual appreciation and support on various occasions. This heartwarming connection serves as a poignant reminder of how the spirit of sportsmanship can not only bridge the gap between nations but also serve as a potent tool in minimizing conflicts.
READ MORE: Chopra becomes first Indian to win gold at World Athletics Championships
Chopra has always outshined Nadeem in different instances whenever they competed together. In February 2016, the two competed against each other for the first time in the South Asian Games at Guwahati. While Chopra won the gold with a throw of 82.23, Nadeem took the bronze with 78.33 m. The second time the duo faced each other was at the Asian Junior Championships in Vietnam, where Chopra won the silver with a throw of 77.60 m and Nadeem claimed the bronze with 73.40. The India-Pakistan rivalry was seen at the World U-20 Championship in Poland, where Nadeem missed out qualification for the final with a throw of 67.17 to finish at the 15th spot. Chopra won that U-20 world title with 86.48, setting a new world U-20 record.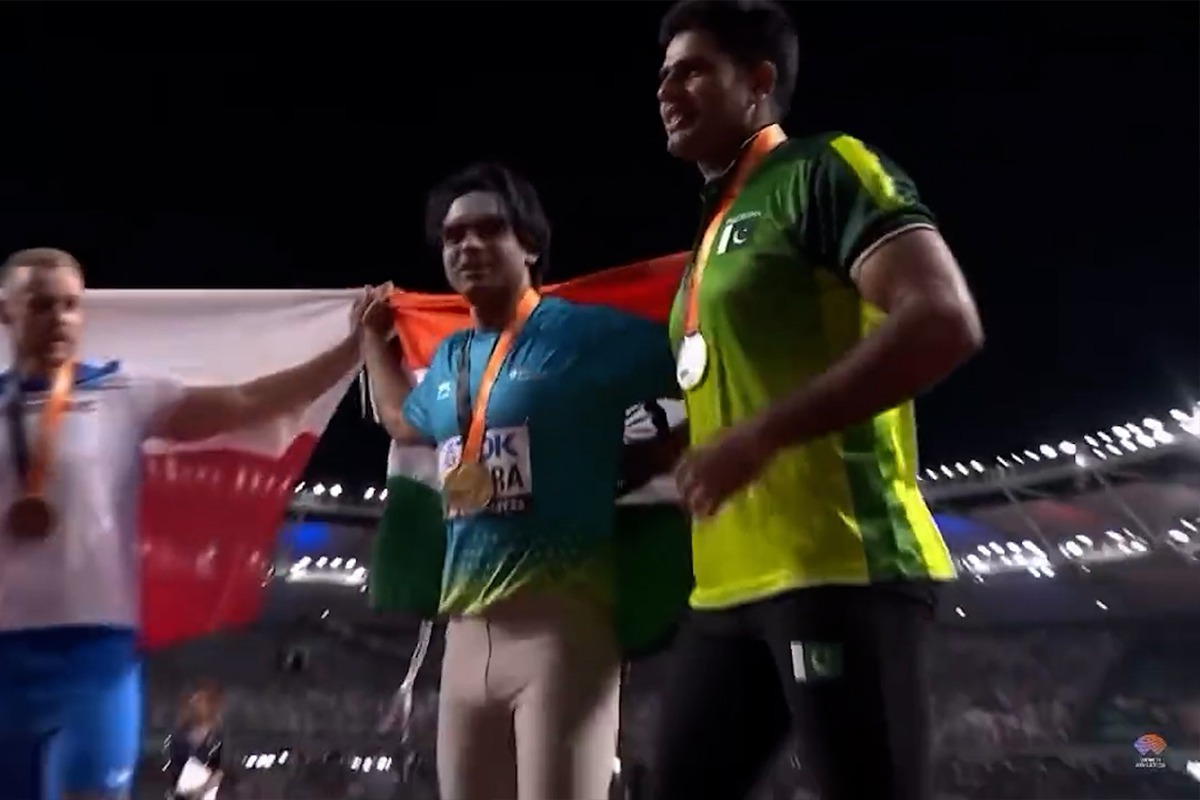 Coincidentally, Nadeem's participation has been limited to these three international tournaments, while Chopra has taken part in ten, achieving the 80-meter mark on two occasions. It's noteworthy that Arshad's remarkable progress is evident through standout performances in previous years, including a significant achievement of breaching the 90-meter mark during the Commonwealth Games, where he clinched Gold. Equally remarkable is the fact that Chopra hasn't yet surpassed the 90-meter threshold.
READ MORE: India's spin masterclass sink West Indies in first ODI
This time, their throws were separated by a mere few inches, adding an extra layer of intrigue to their rivalry. As both athletes have secured their spots for the upcoming Olympics in Paris, the anticipation from the passionate masses of their respective nations is palpable. The stage is set for their next encounter, promising an exhilarating face-off that will captivate audiences on both sides of the border.