Piyush Goyal holds a press conference in relation with the ongoing protest by Nashik farmers against the 40% export duty imposed by the Centre
|
Updated: 22 August, 2023 6:31 pm IST
NEW DELHI: Union food and public distribution and commerce minister Piyush Goyal has ruled out any roll back on the 40 % export duty on onions, a decision announced last week that has led to agitation by farmers across India, but insisted that the government 's move to procure 2 lakh metric tonnes more onions would aid peasants.
The government has been on the backfoot after tomato prices shot up to ₹263/kg during last two months and the food inflation hurt average Indian household. The commerce ministry said that two procurement agencies -National Agricultural Cooperative Marketing Federation of India Ltd (NAFED) and National Cooperative Consumers' Federation of India Limited (NCCF) have been tasked to increase the onion procurement.
"In the upcoming days, our focus remains on assisting consumers in regions with elevated onion prices. Collaborating with NCCF and NAFRED centres, as well as utilizing government resources, we are striving to ensure onions are accessible at a rate of ₹25 per kg," Goyal told media persons at a press conference.
The minister cited that adverse weather conditions and delayed sowing as possible escalation in onion prices, leading to the export curtailment.
"To address this, on August 17, two crucial decisions were made. Firstly, an export duty of 40% on onions was imposed until December 31. We have increased the quantum of onion buffer to five lakh metric tonnes this year after achieving the initial procurement target of three lakh metric tonnes," added Goyal.
READ MORE: Indian farmers erupt in anger on 40% onion export duty
The government is already facing backlash from both consumers, over tomato prices, and now farmers over onion export duty.
Jaydutt Holkar, director of Lasalgaon APMC in Nashik, asserts that the current market conditions don't warrant such a drastic step by the government. "Current wholesale rates range between ₹15 to ₹20 per kilogram, with sufficient stock of summer onions available until December. The market won't experience scarcity even when the red onions are harvested in September and October, as there is an ample supply of summer onions," Holkar told The New Indian.
NAFED and NCCF have established centres in various districts, where they have set a price of ₹2410 per quintal. The sale of onions at subsidised rates began on Monday. The minister advised the farmers to secure fair prices for their onions and assured them against any concerns.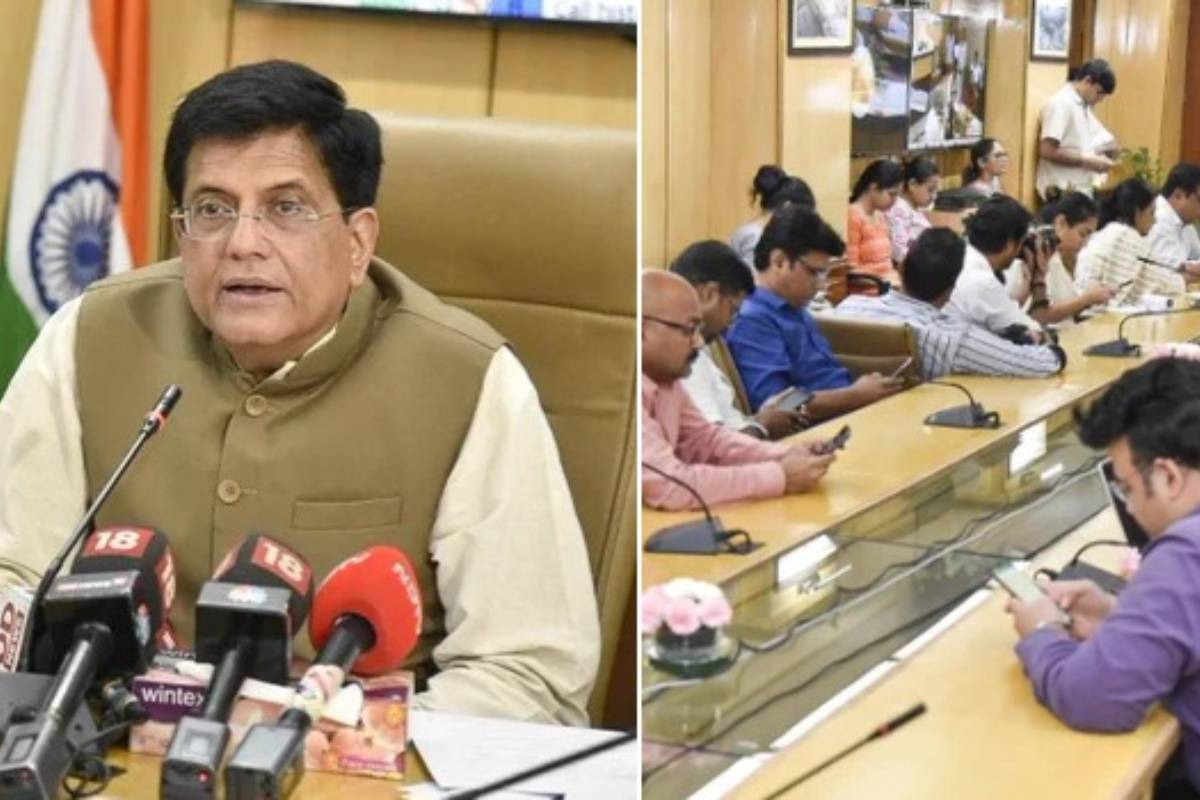 Goyal cautioned farmers to not panic and sell onions at low prices."Panic selling is unnecessary. Reasonable prices await the farmers' produce. Additionally, we've learned that onions are being exported via port shipments. We are actively seeking information from JNPT regarding this", Goyal cautioned farmers.
The ministry is accessing the price of onion across different states and cities. Farmers insist that Centre's decision to slap an export duty of 40 per cent on onions has hit hard the farmers and exporters in the largest onion producing state Maharashtra, with many describing the measure as "unjust" and "totally uncalled for".
READ MORE: Govt Procures Record 2.5L Tonnes Of Onion For Buffer Stock
"The decision might be influenced by political motives and to portray artificial food inflation with respect to onions. This decision has been taken by officers sitting in their air-conditioned offices who have no idea about the ground reality," fumes Shailendra Patil, a spokesperson for Onion Producers in Maharashtra.
For Maharashtra, a drought-prone state, onions are a cash crop. It is the largest producer of the crucial vegetable in the country, followed by Karnataka, Gujarat, Rajasthan, and Uttar Pradesh. Traders fear that this sudden export duty imposition, which is expected to translate into significantly less export, will severely impact business and India's image as a credible supplier in its markets in Bangladesh, Sri Lanka, Thailand, and Malaysia. As the exports came to a grinding halt, farmers, traders, and agents erupted in protests against the Centre's decision in Nashik on Monday.
YOU MAY ALSO LIKE: