Over tripled fares have forced many expatriates to cancel their plan to celebrate Onam with family and friends
KOZHIKODE |
Updated: 16 August, 2023 4:54 pm IST
KOZHIKODE: The steep rise in airline ticket prices on the Kerala-Middle East routes has compelled many expatriates to shun their plans to travel to Kerala for the Onam festival and others to consider connecting flights as a cost-saving measure, resulting in extended travel durations due to over tripled return journey fares.
The airfare from Dubai to Kozhikode on August 15 stood at ₹38,420 against ₹12,000-₹14,000 a year back. The fare from Kozhikode to Dubai now sits at ₹35,012, over three times its rate a year prior.
"Numerous attempts have been made to address this issue, yet a positive response remains elusive. Many of us here are facing the prospect of postponing our Onam vacations due to exorbitant fares and ticket unavailability," said Rajesh Vijayan, a resident of Kasaragod living in Dubai.
The same predicament affects numerous expatriates looking to reunite with their families in Kerala for the Onam festival, as airfares from the UAE and other Middle Eastern countries have more than doubled.
Expatriates from Dubai also bear the brunt of this situation, facing highly inflated prices for flights to various airports in Kerala, forcing many to abandon plans of spending Onam with their families.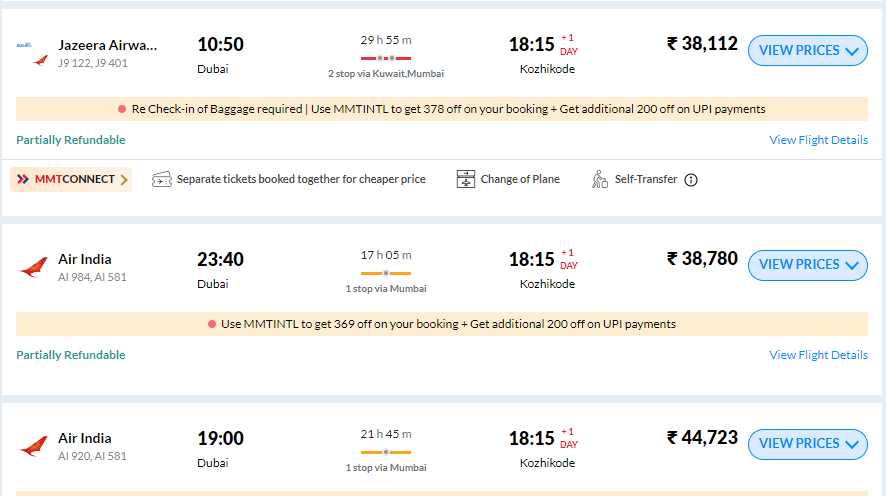 ALSO READ: AirAsia leaves Karnataka Governor behind, sparks controversy
Widespread frustration and discontentment pervade among expatriates due to this unprecedented surge in air travel costs. Despite multiple discussions with the state government and the chief minister's office (CMO), no positive resolution has emerged.
Thousands share this sentiment, left with no choice but to connect with their family members and friends over video calls during Onam.
Aviation industry officials attribute this issue to airlines employing demand-based pricing. Post-Covid, companies exploited peak seasons, particularly July-August when Gulf schools resume after vacation.
ALSO READ: Meet Kerala notaphilist preserving legacy of Re 1 notes
"Emirates and Etihad, airlines owned by the UAE government, hold the lion's share of the market. Thus, intervention to impose price caps during peak periods seems unlikely," noted Ramees Ahammed, a former Kuwait resident.
An air service agreement (ASA) between the UAE and India limits the total weekly seats to 66,000 for flights between Dubai and 15 Indian cities. This constraint curtails extra flights during peak seasons like Onam, Christmas, and Vishu, restricting travel for many expatriates.
The Civil Aviation Ministry has refused to intervene in the issue of excessive airfares for Kerala travel during the upcoming Onam season, citing dynamic pricing and encouraging advanced bookings.
Chief minister Pinarayi Vijayan's office revealed that the Union government declined to address the problem. Vijayan sought civil aviation minister Jyotiraditya Scindia's intervention.